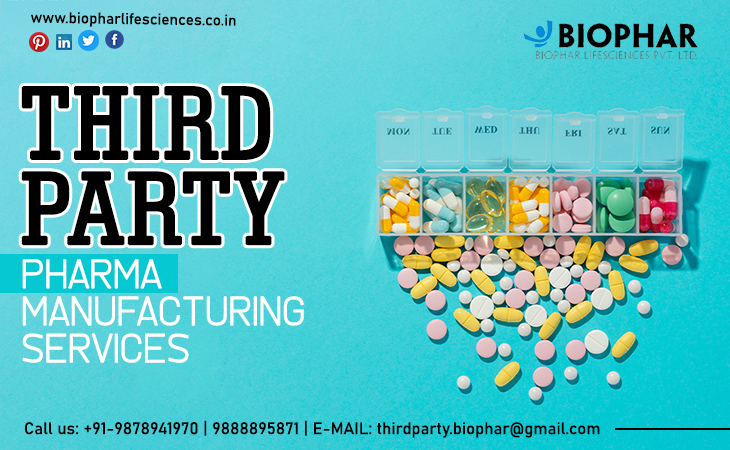 Third-party Pharma Manufacturing Company in Maharashtra - Biophar Lifesciences is one of the best third-party pharma manufacturing company in Maharashtra. The company provides quality pharmaceutical drug formulations at affordable rates. With accreditations from ISO and DGCI, we deal with a wide variety of formulations like tablets, syrups, injectables, powder, capsules, ointments, gels, soft gels, etc. The raw material used in the production of these formulations is collected from the best vendors of the pharma industry. The production units of the company are equipped with the latest and upgraded manufacturing machinery and technologies which helps us in the production of completely safe and highly effective products.
With the increase in demand for pharmaceutical products, many people are looking forward to starting their careers in this sector. So, Biophar Lifesciences, the leading third-party pharma manufacturing company in Maharashtra offers great business deals in all districts of the state including Mumbai, Nashik, Aurangabad, Amravati, Thane, Raigarh, Gadchiroli, Nagpur, Jalgaon, Pune, Kolhapur, Sangli, Beed, etc. Collaborate with us for lucrative career opportunities.
For any query or more detail about the company or the business contact us on +91-172-4173640 +91-9888871967 or email us at biopharls@gmail.com.
Benefits of Investing in Third-Party Manufacturing
Several companies run their business successfully without setting up a manufacturing unit as they make use of third-party manufacturing companies, which helps them in providing cost-effective products. The setting of infrastructure is quite a challenging task as it requires huge investments. In such a case, hiring third-party manufacturing is the best option. It is the easiest and the most efficient method with no complications. You only have to contact the company and ask them about your requirements directly, they will deliver top quality drug range. Here are some of the benefits you get by collaborating with a third-party manufacturing company
You only have to pay for the drugs you are purchasing. The labour cost and other expenses are included, thus, you do not have to pay a higher amount
Hiring third-party manufacturing save lots of your time. You can solely focus on your business rather than on the production of the product as it is the duty of the manufacturing units to provide you with quality formulations.
You will get your orders on time in the most efficient manner.
Leading Third party manufacturing company in Maharashtra – Biophar Lifesciences
Biophar Lifesciences is the most trusted pharmaceutical company in Maharashtra, known for the genuine and transparent deals that we offer. The company is certified by ISO and DGCI and provides quality formulations in Maharashtra. Our production units are equipped with the latest and hi-tech machinery and technologies. Biophar Lifesciences manufactures the best and safest drugs that help in the element of severe health issues. We are capable of delivering a bulk quantity range of tablets, capsules, syrup, and other pharma products. Being the leading third-party manufacturing company, Biophar Lifesciences helps many companies to grow with top quality drug range. Some major factors about the company:
Proper working environment
Spread over a vast area
Backed up with experienced Pharma professional and team of experts
Uses the best quality raw material and pure chemical extracts
100% Quality assured products
Quality of the product is the main business. The best quality products bring great fortunes, thus, we at Biophar Lifesciences provide 100% pure and safe medicines that help in the ailment of several severe health issues. The company provide their associate partner with the top-quality products that are approved and certified by ISO, DGCI, and FSSAI. Our manufacturing units are equipped with the latest and hi-tech machinery that help us in producing cost-effective products. Our wide range of pharmaceutical products includes:
Tablets and Capsules

Syrup

Drops

Cosmetic

Ointment

Pediatrics range

Soft gelatin

Dusting powder

Nasal spray

Sachet
Thereby, you know Biophar Lifesciences is the best pharmaceutical company to provide supreme third-party manufacturing services in Maharashtra. Collaborate with us for ultimate deals.
Contact Details:
Call us at - +91-172-4173640 +91-9888871967
Email at – biopharls@gmail.com