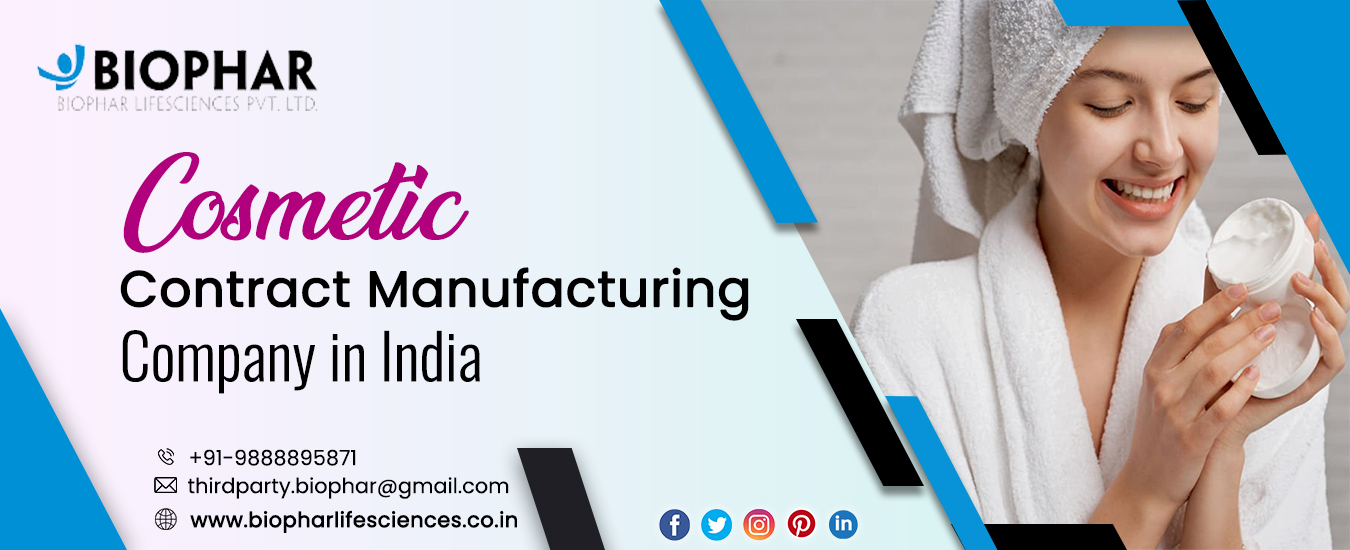 Cosmetic Contract Manufacturing Company in India – Cosmetics are the most demanding products at present. Several companies are investing in the sector and have been harvesting great profits, yet there are some who due to the lack of production units can not invest in the segment. For such organisations, Biophar Lifesciences has taken an initiative to provide manufacturing services in the cosmetic range. We are the best Cosmetic Contract Manufacturing Company in India that provides products in different formulations like creams, lotions, face washes, shampoos, serums, etc. 
Biophar Lifesciences is a well-known brand in the Indian pharmaceutical industry because it is ISO certified and adheres to international standards. We've been offering a diverse range of DCGI-certified skincare, dermatology, and cosmetology products, all of which are made in GMP-certified manufacturing facilities. Our product line offers the most appropriate solutions for our client's various requirements. As a result, we have established ourselves as the Top.
Connect with us to get third-party manufacturing as well as contract manufacturing for cosmetic products anywhere in India. You can contact us by calling on +91-9878941970 & 9888895871 or thirdparty.biophar@gmail.com.
Best Manufacturer for Cosmetic Products in India – Biophar Lifesciences
At Biophar Lifesciences, we offer multiple skincare products including antiallergic, anti-inflammatory, antiacne, antibiotics and so much more. All these products are formulated with the topmost quality raw extracts. The production units of the company are highly furnished and well-built. 
We have employed the best R&D team who is engaged in the production of our quality-verified products. We launch our products after they are well verified by DCGI and GMP. We provide the best services possible to ensure that our business partners are completely satisfied.
We strictly adhere to all standardised procedures and ensure that the quality of the medicine is not compromised.
Our quality assurance experts examined the medications before recommending them to the market.
For quick processing, the manufacturing facility is well-equipped and furnished with the most up-to-date technology and machinery.
The manufacturing units' R&D team is a true quality booster, constantly raising the company's current market standards through innovative structures.
To maintain the product's visibility in the customer's mind, we introduce it to the market using the most up-to-date, sophisticated techniques.
Variety of Cosmetic Products for the Third-Party Manufacturing in India
Being one of the leading pharma manufacturing companies, Biophar Lifesciences is the fastest growing pharma manufacturing company in India. We have our network spread across the nation. All our products are well-verified by the leading dermatologists and cosmetologists. Being formulated with 100% pure raw material, these formulations are highly safe, effective, reliable and durable to use. 
We have special teams to quality check our products multiple times. Covering a vast range of medicinal ranges like antibiotics, anti-seborrheic, anti-fungal, anti-allergic, etc., our products are available in various doses. Along with manufacturing services for our formulations, we also offer contract manufacturing services for the products required by our clients. Some of our widely sold formulations include:
Aloe Extract Salicylic Acid Vitamin E Face Wash
Ceto Stearyl, Aloe Vera Juice, Shea Butter Moisturizing Cream
Cetyl Alcohol, Ceto-stearyl Alcohol (Cleansing Lotion)
Coal Tar, Salicylic Acid Solution for Shampoo
Salicylic Acid (Gel Base) Facewash
Sertaconazole Nitrate, Zinc Pyrithione Shampoo
Skin Whitening Face Wash (Loreal Type)
Vit. C Serum
Quality Standards Adhered at Biophar Lifesciences
Biophar Lifesciences is dedicated to providing a high-quality, accurate product. A high-quality product can solve problems. To achieve the highest product yield, our QA/QC team investigates the entire production cycle and ensures that the manufacturing group follows all global quality rules.
Several quality assurances have been completed, ensuring that our manufacturing facilities are secure and that our products are safe to consume. Our cosmetic and skincare products have been clinically tested and approved by a group of experts. High-ranking official doctors strongly recommend our product on the market. We make certain that our customers are never unhappy with the services we provide.
To assist workers and employees with difficult routine tasks, the company has chosen simple and standard operating procedures.
Auditing has been used as a safeguard to ensure that workplace standards are followed since ancient times.
The Total Quality Management team is in charge of ensuring customer satisfaction by overseeing the quality process.
Contact Details
Mobile: 9888895871
Email: thirdparty.biophar@gmail.com