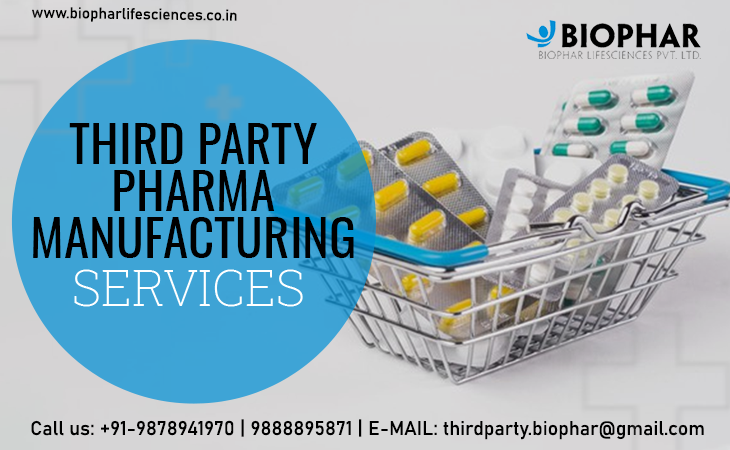 Third-Party Pharma Manufacturer in Uttar Pradesh- In Uttar Pradesh, Biophar Lifesciences provides world-class third-party manufacturing services in cities such as Agra, Kanpur, Allahabad, Lucknow, Varanasi, Meerut, Saharanpur, and others. The company's major goal is to deliver a high-quality drug range to society, which is acknowledged by the ISO 9001:2008 accreditation. Our company has an art of state manufacturing facilities to provide a wide range of pharma products for outsourcing. If any pharma company looking for Third Party Pharma Manufacturer in Uttar Pradesh then Biophar Lifesciences will be the best option for them.
Pharma manufacturing is the most effective strategy to grow your pharmaceutical company's reach throughout Uttar Pradesh. Biophar Lifecsinces is involved in the greatest production services because it has its GMP-approved manufacturing units. Because our infrastructure has been set up according to the ScheduleM, our organization is considered the top Third Party Pharma Manufacturer in Uttar Pradesh. Each medicine has been approved by DCGI and is manufactured to the highest standards. You can count on us to conduct business openly and healthily.
We have highly skilled professionals in all fields. Our Firm is very open to solving any kind of queries, so feel free and call us at 9888895871, or write us an email at thirdparty.biophar@gmail.com.
Merits of Being associates with Biophar Lifesciences in Uttar Pradesh
Biophar Lifesciences is a trusted name in the pharmaceutical industry for its manufacturing services, as our facilities adhere to GMP guidelines (GMP). Formulations, quality control, research, packing, and delivery are all handled properly by our organization. Many reputed pharma companies embraced Biophar Lifesciences even though they have their one manufacturing unit but for Better growth and expansion they choose contract manufacturing via our company. There are some other benefits offered by the company:
Economic Rates: Because our manufacturing facilities are located in a Special Economic Zone, the cost of pharma products is reduced, making them less expensive than other pharmaceuticals.
Certified Production Facility: Biophar Lifesciences is a WHO-GMP-certified company, and its manufacturing services are likewise WHO-GMP-Verified for creating high-quality medicine.
Best Packaging: Because the packing style of a product can be judged, we concentrate on the packaging's quality. It should be durable, appealing, leak-proof, and break-proof.
Vast Logistic Feature: The organization has the greatest logistic partners all over the country who help with regulatory-compliant movement, management, and transportation, including shipment, freight, and so on.
Quality Pharma Products: The company delivers quality pharma products to secure the patient's life and give them the best healthcare solutions at the perfect time. 
Highly Recommended Pharma Products are Available for Manufacturing Services
When it comes to quality, Biophar Lifescinecs is taking it very seriously because quality and verity are the only things that can set us apart from the competition in the market. The company works with over 500 different medicines that have been approved by the FDA and have DCGI certificates. Our company follows GMP guidelines to produce a high-quality pharmaceutical product in Uttar Pradesh, which is why doctors praise our products. We increased our clients' satisfaction by providing them with their desired medicine solution at a reasonable price. The following are some of the highly recommended medicines:
Tablets
Capsules
Syrups
Paediatric
Nutraceuticals
Antibiotics
Gynae products
Soft gel
Sachet
Cardiac products
Soft gelatine
Mouthwash, etc
Why choose Biophar over the other Pharma Manufacturing Companies in Uttar Pradesh
In Uttar Pradesh, Biophar Lifescinece is providing legitimate third-party manufacturing services. To begin with, our manufacturing services are far more economical than those offered by other production organizations. In addition, we provide high-quality medicines that have been approved by our quality control experts, who have extensive experience in this industry and never compromise on drug quality. To keep our brand name at the top of the Uttar Pradesh market, our R&D professionals analyze market trends and demand regularly and then update or innovate our pharma line promptly to meet clients needs. Several other factors support our position as the greatest third-party manufacturing firm in Uttar Pradesh.
State-of-art Production Services
24*7 customer services are available
Equipped with the latest technology
Capable to make bulk production
Quick delivery will be confirmed
Every operation is cost-effective, etc.
Contact Details:
Call us at - 9888895871
Email at – thirdparty.biophar@gmail.com