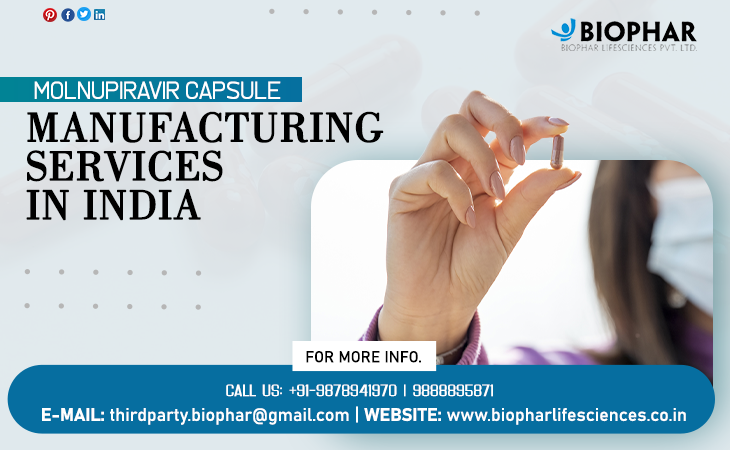 Molnupiravir Capsule Manufacturer in India - Molnupiravir Capsule is linked to a class of medications known as antivirals which work by stopping the replication of certain RNA viruses. These are used to treat COVID-19 in those infected individuals who had suffered from SARS-CoV-2. In order to fulfill the ever-increasing demand for this medicine which is used in the treatment of COVID-19, Biophar Lifesciences has come forward as the top Molnupiravir Capsule Manufacturer in India. This is highly effective in stopping the progression of the COVID-19 in those adults who are at more risk of developing it at a very fast rate. 
Biophar Lifesciences is among the clutch of companies that are offering Molnupiravir in capsule form. Mild to moderate Covid-19 and its related symptoms are treated by using Molnupiravir Capsules and being a well-known Pharmaceutical company we are providing it in different packaging solutions like Blister, Alu-Alu, and bottle. We are ready to deliver bulk orders as per the needs of the client as our manufacturing plant is highly furnished and is featured by hi-tech and latest machines that make us the best Molnupiravir Capsule Manufacturer in India.
Best Molnupiravir Manufacturing Company in India - Biophar Lifesciences
Biophar Lifesciences is one of India's largest specialty generic pharmaceutical companies that is working on the sole motive of helping people to get rid of their health problems by offering them Quality Rich drugs formulations. A well-integrated and skilled working team enables the whole organization to surpass the expectations of the associated partners and we never leave an opportunity to satisfy them with our excellent work. 
Over 250+ Pharma professionals are currently in touch with us that makes us stand out and we have successfully left a remarkable benchmark on the whole industry with our top-notch pharma products and services. To solve the increasing demand for a medicine that can be used as a part of the complete CoronaVirus treatment, our customer-centric firm is offering Molnupiravir Capsules Manufacturing services in India.
Molnupiravir Capsule Uses, Precautions & Side Effects
Molnupiravir Capsule is being used as a part of the complete treatment for adults who are suffering from Covid-19 and are infected by SARS-CoV-2. Basically, it is an antiviral medicine that is supposed to fight the virus by inhibiting the duplication of certain RNA viruses. Due to the stiff competition, Pharma companies are restricted to offering these capsules at a very genuine price range. This was also facilitated by the fact that people are searching for a proper medication that can be used to get relief from various problems and symptoms of CoronaVirus.
Uses/Dosage:
These capsules are advised to be used as a five days course in which daily consumption of 1 capsule twice a day is advised.
Indicated for the treatment of mild-to-moderate COVID-19 and its related symptoms. 
Precautions:
These capsules aren't advised to be used by pregnant women.
Only adults are advised to use this medicine and individuals below 18 years of age may face the problem of weak bones.
The whole 5 days of treatment should be completed for getting proper results.
Side Effects:
Diarrhea
Nausea
Dizziness
Quality Standards Maintained At Biophar Lifesciences
Biophar Lifesciences has always aimed to fulfill the requirements of the company or the client who is linked with it. Quality is the first thing that strikes the mind of every individual when it comes to using products and especially the pharma ones as they are being used to get effective relief from different health problems. As the number of Covid-19 patients is increasing, it becomes mandatory for someone to take the responsibility to come up with a solution to the same which can be utilized for this treatment. Have a look at some of the salient features of our company.
Our prime focus lies in the quality of each and every product.
We are using 100% safe raw material to come up with quality rich-end products.
International quality standards are maintained in the manufacturing process.
Latest machines are used which are operated by different workers under the guidance of Pharma experts.
Superior Packaging Solutions Offered By Biophar Lifesciences
Having good packaging is an important part of maintaining the quality of the product intact as it protects it from different negative factors which can spoil the effectiveness of the product. It also makes sure that the medication remains in good form for as long as it is supposed to be. Biophar Lifesciences is strived to offer Molnupiravir Capsule in various packaging types so that the linked partner will be able to further provide the same pharma drug to the ultimate consumer. Having good and attractive packaging not only adds to its shelf life but it also makes the product more noteworthy in the eyes of the consumer. Following are the packaging solutions that we offer for Molnupiravir Capsule:
Blister
Carton
Alu-Alu
Bottle
Strip
Paper
Container
How To Apply For Third-Party Manufacturing For Molnupiravir Drug? 
Biophar Lifesciences is the best Molnupiravir Capsule Third-Party Manufacturer in India that is offering a great chance for many to various Pharma companies who are in search of getting Molnupiravir Drug manufactured. By collaborating with us, one will be set free from worrying about the manufacturing plant which can be used by them for the production process. 
Our highly skilled staff makes sure to carry on the manufacturing process in a very efficient and effective manner which allows us to provide the final product to the linked partner within the shortest time possible. Although there are some prerequisites that one needs to follow before joining hands with us as they need to have some documents which are given below.
Sales Tax/TIN or GST Registration Certificates/ Number
Signed and Verified Contract Manufacturing Agreement with Complete Details
Drug License
Marketing / Corporate office Address
Non-resemblance Certificate
Copy of Resolution for Authorized Signatory to Deal
Company profile with signatures from directors (Aadhar Card and Pan Card)
Contact Details
Phone:  9888895871
Email: thirdparty.biophar@gmail.com