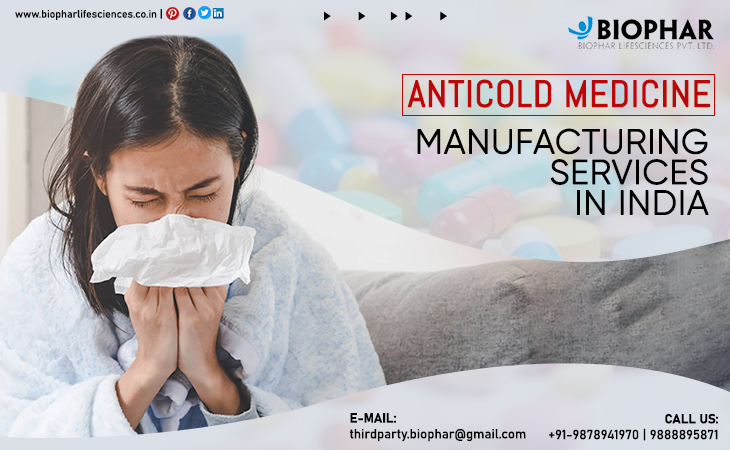 Anti-Cold Medicine Manufacturer in India- Biophar Lifesciences Pvt Ltd will deliver a world-class variety of decongestants, cough suppressants, expectorants, antihistamines, antitussives, narcotic cough suppressants, and expectorants pharmaceuticals to India for third-party manufacturing. We have grown to become the leading by developing, marketing, and supplying the highest quality cold and cough medicines. The company offers a portfolio of more than 250 pharmaceutical items and has a 100% track record of producing effective anti-cold and cough suppressants with comprehensive quality assurance.
Biophar Lifesciences is a well-known brand in the Indian pharmaceutical business since it adheres to international standards and is ISO certified. We've been offering an appealing assortment of anti-cold and narcotic cough suppressants with DCGI formulation certification, all of which are made in GMP-certified manufacturing facilities. Our product line provides the best solutions for our clients' various needs. As a result, we have earned the reputation of being the top Anti-Cold Medicine Manufacturer in India.
We offer inexpensive cough and cold medicine costs, as well as features such as speedy delivery, the best packing technique, increased QA/QC standards, and sophisticated machines. So phone +91-9878941970 & 9888895871 or email thirdparty.biophar@gmail.com to get in touch with Biophar Lifesciences.
Best Manufacturer Pharma Company for the Anti-Cold Medicines in India
Cough, obstruction, stuffy nose, runny nose, sniffling, and viral difficulties are all treated with Biophar Lifescience's Anti-Cold Medications. For these viral illnesses, we carry the most up-to-date and subjective medication formulations. The company provides you with DCGI-approved medicines that are completely safe to use. GMP and ISO certifications establish international criteria, which are included in the manufacturing system. To ensure that our business partners are completely satisfied, we provide them with the best services possible. We can assure you that joining forces with Biophar Lifecsinves will never cause you to second-guess your decision. Here are some fascinating statistics concerning our production abilities.
We carefully follow all standardized strategies and ensure that there is no trade-off in terms of medicine quality.
Our Quality administration experts have checked the medicines and then recommend them to the market.
The manufacturing facility is well-equipped and furnished with the most up-to-date technology and machinery for quick processing.
The R&D team at the manufacturing units is a true quality booster of the company, continually raising the company's current market standards through innovative structures.
We introduce the product to the market using the most up-to-date, sophisticated techniques in order to maintain the product's visibility in the customer's mind.
Variety of Anti-Cold Medicines For the Third Party Manufacturing in India
Basic cold and dry cough is a typical viral irresistible sickness. It is one of the most well-known problems in the human body. Also comes under communicable infections, this could be because of chilly climate, unfavorable susceptible indications, and so on. The demand for Anti-Cold medicines in India is inelastic. They don't change with an earlier fall or ascend in cost. These medications are ever-green with regard to requests all over India. Biophar Lifecsinces has come up with advanced tablets, capsules, injections, syrups, sachets that can fight cold infection diseases. Focusing on cold relief tablets we have brought different formulations and compositions in the Anti-Cold Medicine range. Some Cough and Anti-Cold Drug Compositions are:
Guaiphenesin
Ambroxol, Terbutaline, Guaiphenesin Menthol
Cefixime
Oxymetazoline Hydrochloride
Cefixime, Pottassium Clavulanate
Cefixime, Ofloxacin
Cefixime, Lactic Acid Bacillus, Billion Spores
Levocetirizine, Montelukast Sodium
Levocetirizine, Montelukast Sodium, Paracetamol
Chlorpheniramine Maleate, Dextromethorphan Hydrobromide, Phenylephrine Hydrochloride
Outstanding Quality Measures Followed by Biophar Lifesciences
Biophar Lifecsinces is committed to producing a high-quality product that is accurate. A high-quality product is capable of resolving issues. Our QA?QC team investigates the entire production cycle and ensures that the manufacturing group follows all global quality rules in order to achieve the highest product yield. We have completed numerous quality assurances, ensuring that our manufacturing facilities are secure and that our products are safe to ingest. A group of experts has clinically tested and approved our Anti-Cold Medicines fragment. Our product is strongly recommended in the market by high-ranking official doctors. We make certain that our consumers are never dissatisfied with our services.
The company has chosen simple and standard operating procedures to assist workers and employees with difficult routine tasks.
The Total Quality Management team is in charge of overseeing the quality process in order to ensure customer satisfaction.
Since ancient times, auditing has been used as a safeguard to ensure that workplace standards are followed.
Link With us Today!
Mobile: 9888895871
Email: thirdparty.biophar@gmail.com