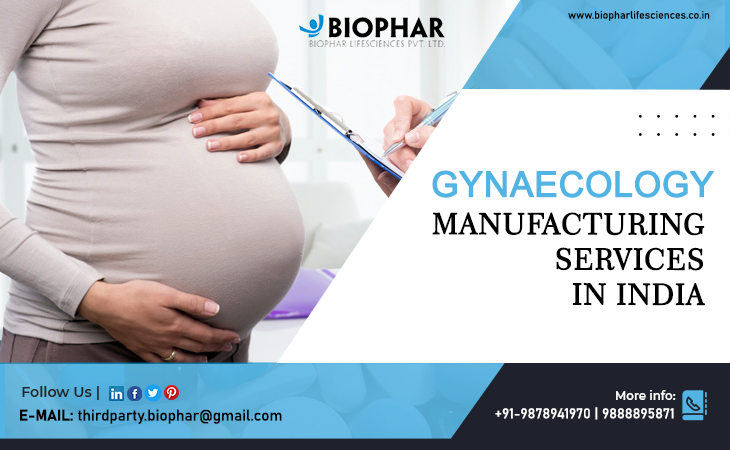 Gynae medicine Manufacturer in India – Biophar Lifesciences Pvt Ltd is the most committed Gynae medicine Manufacturer in India. With our 10+ years of experience, we are known as the most authentic pharma manufacturing company. Our state-of-art production units are located in the excise duty-free areas and are furnished with the latest machinery which helps us in the production of our supreme quality drug range. 
With world-class technology, vast storage warehouses and the best team of pharmacists, Biophar Lifesciences is the leading Gynae medicine Manufacturer in India. We are the most trusted pharma third-party manufacturing company that offers genuine and quality gynae drugs at reasonable rates. We are capable of producing huge stock in less period. Depending on your needs, we can provide you with a wide choice of pharmaceutical products.
Contact us for the best manufacturing services by calling on 9888895871, or send us an email at thirdparty.biophar@gmail.com. 
Leading Gynae Medicine Manufacturing Company – Biophar Lifesciences
Biophar Lifesciences has its client base on the national level. Our company provides third-party manufacturing services in all regions of India and our gynae range of products are highly appreciated by all our clients and the leading doctors. Our unwavering commitment to quality and manufacturing techniques has made us a household name in the pharmaceutical industry. 
We have a large network of logistic partners and helpful staff who can assist us in producing and supplying high-quality DCGI-approved medicinal solutions. You'll find complete transparency here, as well as the guarantee of the highest level of client satisfaction through effective business processes.
Latest Machines & Equipment
DCGI-FDI Approved Products List
Skilled & Experienced Staff
Best QA/QC Standards Applied
ISO-GMP Certified Pharma Company
Self-Own Manufacturing Unit
Wide Network of Logistic Partners
Quality Parameters followed at Biophar Lifesciences
At Biophar Lifesciences, the quality of the product is the first thing that we prioritize. We make sure all our products are highly safe and reliable to use. We have a vast range of products that are manufactured under the strict supervision of leading pharmacists. The raw extracts used in the production of our products are gathered from the most reliable pharma merchants and we bring them to use after being sure of their purity and safety.
Following international quality measures, Biophar Lifesciences has made a prominent name in the Gyne drug market. Located in the special economic zones, our production plants are highly furnished with the latest and advanced machinery. We follow all the security measures led by WHO and GMP and bring our products into the market after they are certified by ISO and DCGI. 
Eminent Gynae Drug Range at Biophar Lifesciences
The growing geriatric female population and economic expansion are two significant aspects that are anticipated to make the gynaecological medications industry lucrative. Our company, Biophar Lifesciences, offers the best third-party manufacturing services in Obstetrics and Gynecology medicines. Our products are available in various dosage formulations like tablets, capsules, soft gels, injectables, etc.
Some of our highly sold drugs are:
Natural Progesterone 
Cholecalciferol
Letrozole
L-Arginine
Hygiene wash
Lactic Acid
Evening Primrose Oil
Herbal Uterine Tonic
Hydroxyprogesterone caproate
Various Packaging Techniques Followed at Our Company
Safe and attractive packaging is a must for a product. It helps in keeping the product safe from outer atmosphere, dust and contamination. Not only that, it keeps the product safe from spillage or leakage. Also, if the packaging is attractive, it will gradually increase the sales of the product. We make sure the products are completely effective and reliable. 
Cartons
Bottles
PVC Based Combinations
Aluminium foil
Paper
Lamitubes
Paper Board
Injectables/Vials
Containers, etc.
Requirements to get Third-Party Manufacturing in Gynae Range at Biophar Lifesciences
Biophar Lifesciences offers its third-party manufacturing services at the PAN India level. The company offers 24*7 services in Gyne medicine manufacturing services. The payment and minimum order quantity must be settled at the start. Along with all this, you will be needing some documents like:
Mutually Signed Contract Manufacturing Agreement 
Non-resemblance Certificate
Marketing / Corporate office Address
Company profile with signatures from directors 
Copy of Resolution for Authorized Signatory to Deal
Drug License
Sales Tax/TIN or GST Registration Certificates/ Number
Logo and Brand Values (if)
Tonality and Designs (If)
Contact Details
Mobile: 9888895871
Email: thirdparty.biophar@gmail.com